10/23/2019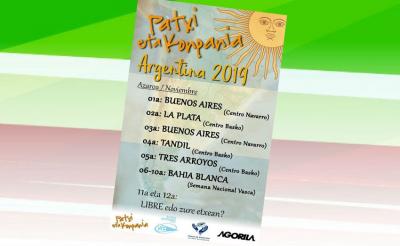 In hopes of repeating the successful experience in 2016, the group Patxi eta Konpania, directed by Patxi Perez will begin a tour on November 1st that will take them through Basque and Navarrese clubs throughout the country as well as take them to Semana Nacional Vasca this year in Bahia Blanca. In fact, the group won't only entertain at the dances at the huge festival, but will also teach workshops as ...
---
10/23/2019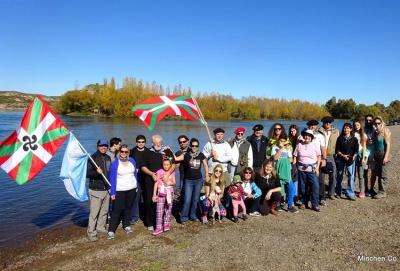 The Basque Government approved two new Basque clubs, both in Argentina, at yesterday's meeting of the Governmental Council in Vitoria-Gasteiz. One of these, Baskos de la Confluencia Civil Association, is in the province of Neuquen in the city of the same name, and the other is located in Roldan, Euskel Biotza Basque Club. Both associations are active members of FEVA the Federation of Basque Entities in ...
---
10/22/2019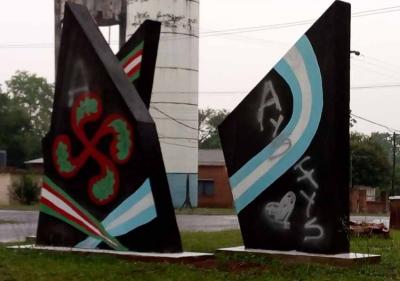 In the area, street furniture had already been attacked before and this time, the allegorical work of art, produced by a workshop organized by Eusko Etxe in Corpus, coordinated by artist Valeria Garibotti with members of the Basque club has now been damaged with graffiti. Although the monument belongs to the city, the club has pressed charges according to club sources in the local daily Primera Edicion.
---
10/22/2019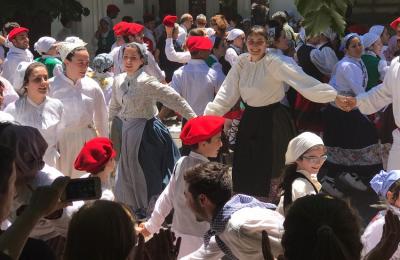 Semana Nacional Vasca 2019 is getting closer (November 2-10) and the influx of visitors from the Basque Country has begun to share this magnum annual event. A group of some 20 individuals from Eskoriatza and Arrasate, in Gipuzkoa will leave this coming Friday for Argentina on an organized visit put together by Bask in Motion and Arrasate Bidaiak that includes attending Semana Vasca in Bahia Blanca.
---
10/22/2019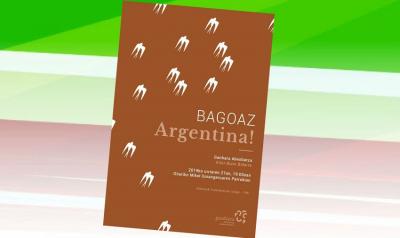 To celebrate the 25th anniversary of its creation, the Oñatiko Ganbara Abesbatza (Oñati's Chamber Choir) from Oñati, Gipuzkoa will enjoy a mini tour of Argentina during the first part of November. The trip, that concludes the group's year of festivities, will take place November 1-9, dates that were not chosen randomly. In fact, the tour will conclude with the meeting of ...
---
10/22/2019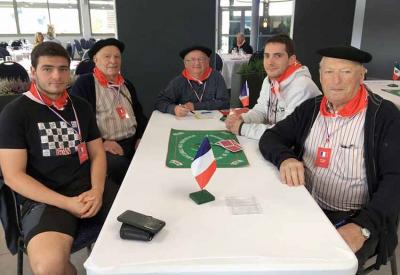 The 42nd World Mus Championships between Basque communities took place last week in Baiona, and the team from Canada comprised of Franck Altuna and Rufino Iribarren (delegate Frank Etchart) took the championship's txapela; second place went to the second team from Navarre, Javier Apesteguia and Daniel Zunzarren and third place with to Euskadi's team, Borja Ruiz and Ixone Ureña.
---
10/21/2019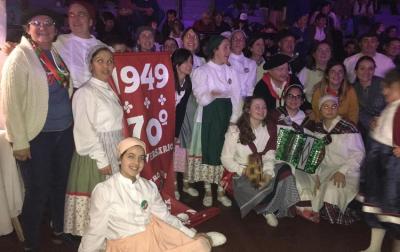 The invitation is part of the program that the Basque club has carried out all year to mark its 70th anniversary. For November, the main event will be a portrait exhibit that will be inaugurated on November 24th that they have also invited other artists to, members and non-members alike with works that reflect some aspect of Euskal Herria. Works will be displayed during the entire day that marks the ...
---
10/21/2019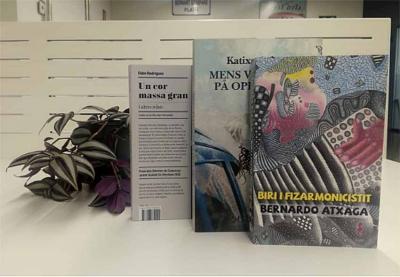 Basque literature is available in three new titles translated into other languages. These are Atertu arte itxaron by Katixa Agirre that can now be read in Danish, Soinuolearen semea by Bernardo Atxaga now available in Albanian, and the collection of stories Bihotz Handiegia by Eider Rodriguez that readers of Catalan can now enjoy. The three translation received support from the Etxpare Basque ...
---
10/18/2019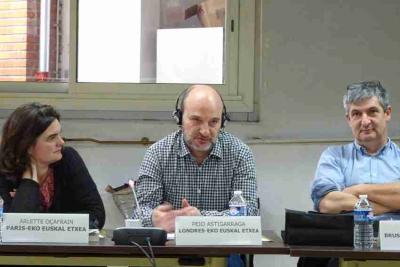 Brussels will be the site this Friday and Saturday for the annual meeting of Basque teachers at European Basque clubs. As usual, the agenda will include topics related to Basque instruction and the problems, and advances that occur when teaching Basque, this time, shortly after the conclusion of the 7th World Congress of Basque Collectivities Abroad. An area where Basque language and instruction were ...
---
10/18/2019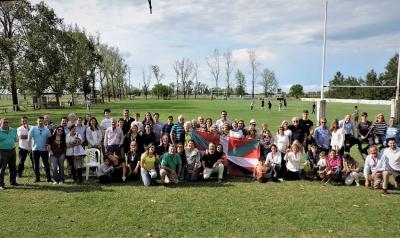 The 3rd Eguiazu family reunion in Argentina, descendants of Melchor Equiazu and Ruperta Arenaza from Eibar, took place last Sunday, October 13th in Rafaela, in the province of Santa Fe. The reunion was attended by some 100 family members coming from Santa Fe (Santa Fe); Paraná and Victoria (Entre Ríos), Resistencia (Chaco), Dolores and Escobar (Buenos Aires), Río Cuarto (Córdoba) ...
---