07/30/2020
In cities where there was a large Basque immigration, like in Argentina in Arrecifes, the celebration of San Ignacio preceded the creation of the Basque club itself, and so Basque immigrants, mainly those from Bizkaia and Gipuzkoa would gather on July 31st at a festival and dance. With the passage of time, clubs took over the custom and so today, the Feast of St. Ignatius of Loyola is one of the historically most ...
---
07/29/2020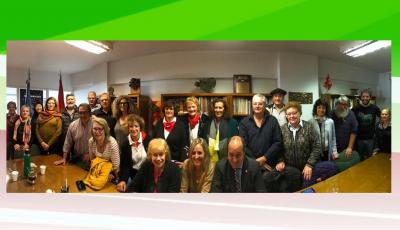 The FEVA 2020 Ordinary Assembly will be held this Saturday, August 1, for the first time online, through the Zoom platform, in an unprecedented modality but following the conditions legally established by the IGJ, Argentina's General Inspection of Justice, for this special health emergency situation due to the COVID-19 pandemic.
---
07/28/2020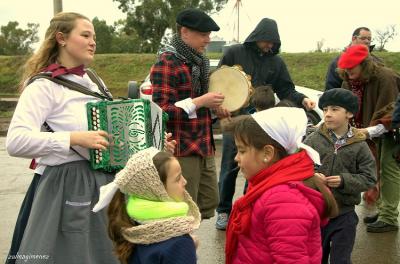 When the Basque clubs maintain close relationships with one another things like this happen: Sara Urbieta is a dantzari, and dance teacher at the Hiru Erreka Basque Club in Tres Arroyos; she also dances and teaches at the Gure Etxea Basque Club in Tandil; and one day at a "Hator Hona" program in Necochea, she discovered the trikitixa and since then has also participated in Basque music workshops ...
---
07/27/2020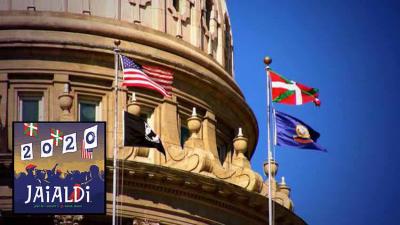 In this year plagued by the COVID-19 pandemic, Jaialdi in Boise, along with NABO's annual convention and Basque festival in August in New London in the United States, along with Semana Nacional Vasca in Argentina in Macachin in November, the largest gathering in the Diaspora were cancelled. With the uncertain data that continues to come from the United States and from a good number of other countries, few ...
---
07/27/2020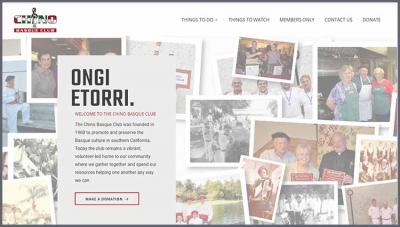 The Chino Basque Club has formally announced the cancellation of its traditional Basque Festival that would have taken place on September 5, 6, coinciding as every year with Labor Day weekend (this year September 7th). That Sunday Aita Antton Egiguren, Basque chaplain in the US, will celebrate the corresponding mass online on Facebook, remembering members of the local Basque community, and well as those in the ...
---
07/25/2020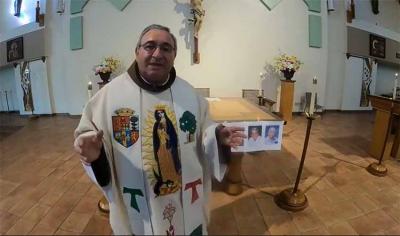 This coming Friday, July 31st, is San Ignazio, and so Sunday's online mass celebrated by Aita Antton Egiguren from Merced, California, will be dedicated to this festivity (not only celebrated in the Basque Country but also in a large number of Basque clubs around the world, also by the name of San Inazio or Iñaki Deuna), as well as to the cancelled Jaialdi 2020 festivities in Boise, ...
---
07/25/2020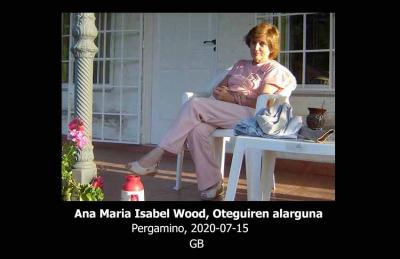 We announced it last Sunday on social media but have received permission until today to publish a remembrance in the form of the obituary of Ana Maria Isabel Wood, the widow of Carlos Otegui and the mother of our friend and colleague in EuskalKultura.eus Sabrina Otegui. Sabrina's mother's health had suffered recently, but her death was unexpected. We hope that Sabrina, her siblings and ...
---
07/24/2020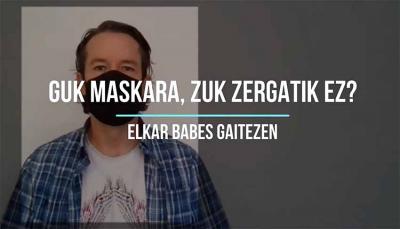 The Coronavirus has become part of our lives since March 2020, and although the struggle to fight it has also lasted that long, humans aren't done taking precautionary measures and there are still too many citizens and authorities that don´t follow as much as they should the recommendations of the health authorities. And so, some people still continue thinking ...
---
07/24/2020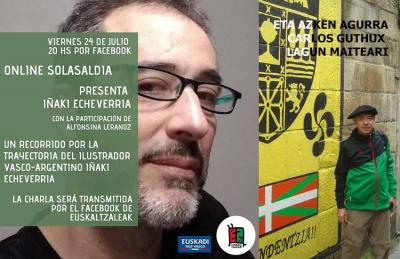 The Euskaltzaleak Euskaltegi in Buenos Aires will dedicate today's online conference and gathering to its members and friend, Carlos Guthux who passed away a few days ago. The event will begin at 8pm, local time (1pm on Saturday in the Basque Country) on Facebook. Entitled "Iñaki Echeverria, Journey Through the Career of a Basque-Argentine Illustrator," Alfonsina Leranoz will ...
---
07/23/2020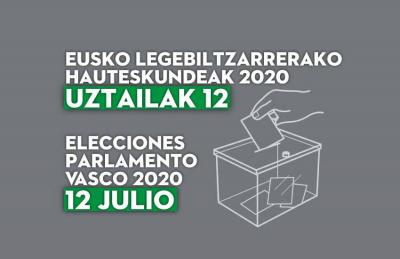 Not often cited, with complaints heard here and there, also in the pages of EuskalKultura.eus, but what is sure is that the question of the right to vote by Basques in the Diaspora continues unresolved. It is a recognized right on paper, but in election after election in the last five years, there have been innumerable obstacles placed before those wishing to exercise this right, resulting in practically nullifying ...
---