Cordoba, Argentina. The Basque Cultural Association in Cordoba, Gerora, celebrates 10 years and is doing so with a large number of activities, all of which are virtual, but that reflect the strong ties the institution maintains with cultural and institutional references, in Euskal Herria as well as in Cordoba and Argentina. The statements that have been received from both the Deliberative Council and the City Legislature, of "adhesion and approval," for the commemoration are just a sample.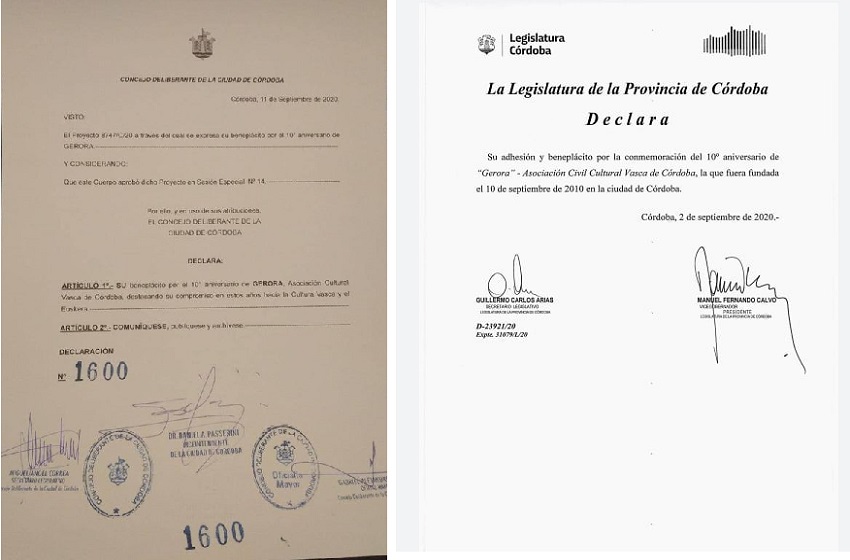 [Events in the city and province of Cordoba]
In the same way, representatives of the Basque Government in Euskadi and their Delegation in Buenos Aires, FEVA itself in Argentina ad many Basque clubs and Basque-Argentine institutions sent their best wishes to Gerora during this very special month.
Without a doubt, the biggest recognition and gift is from those who have made Gerora what it is today: a hotbed of dantzaris, in the group Txotx! a training center for musicians thanks to the Lurra eta Haizea workshop. A meeting place for Basque speakers who have kept active this year virtually, showing off what they have learned at the "Euskal Poemak," collection. And of course the sukaldaris (cooks) from the Sutondo Workshop that provide a vital element to their gatherings…

[Greetings from some of Gerora's Friends, see the very last images]
Every one of the Association's members participated in this anniversary that was still emotional even if it was virtual.
A txistu recording, Made in Argentina
And as a bonus track Lurra eta Haizea launched its album "Chisturi Social Club!" that is now available to listen to for free on the Gerora website.
Zorionak, Gerora!