La Plata, Argentina. As part of the EDA – Argentine Sports Schools, Jorge Bernasconi, secretary of the Argentine Confederation of Pelota visited the LaPlata Euzko Etxea facilities and presented the directors of the Xare School a series of racquets that can now be used by students there. The first Xare School in La Plata has functioned at the Basque Club since 1982, with classes for all ages provided by coaches Claudio and Iñaki Gil Najera.
Continuing in the area of sports news, the Euzko Etxea reported that City Councilor Ariel Archanco visited the club and watched the Blind Soccer Team's practice. Archanco and Nicolas Screpis, from the National Directorate of Migration, also met with members of the Board of Directors and learned about the club's projects.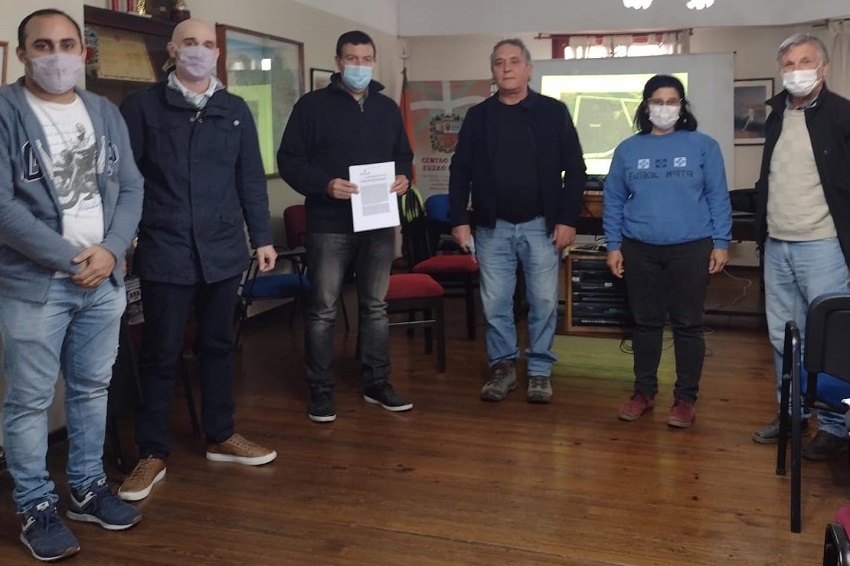 [Members of the Euzko Etxea's Board of Directors with Ariel Archanco and Nicolas Screpis (photo EE)]
The Euzko Etxea in La Plata also reported that practices at the Hockey School will also resume as well as in other disciplines that practice at the facilities on Calle 14 Esquina 58.
Besides the aforementioned sports, the Euzko Etxea in La Plata also offers classes in goalball, soccer, volley ball and mus. For more information, or to enroll, email the club's secretary at secretaria@cvascolaplata.org.ar, or through its social media Centro Basko Euzko Etxea de La Plata or centrobasko.