Cuatro Esquinas, Argentina. In the Patagonian city of Cipolletti, in the province of Rio Negro, there is a rural area, "Cuatro Esquinas," (four corners), that has had a chapel for nearly 30 years in honor of the Basque Virgin of Arantzazu. As in other cases, its origin is linked to work, solidarity and the contribution of Basques and their descendants in places where they were welcomed after arriving in Argentina. Members of the Baskos de las Confluencia Basque Club wanted to learn the history of the chapel and kindkly shared the information with EuskalKultura.eus. Mila esker Eduardo Arkaute eta Pedro Arana Urionabarrenechea!
They refer that at the beginning of the 90s a group of Basques began to meet to project some initiatives related to the Basque people. It was under these circumstances that Sister Magdalena (a religious of the Congregation of the Daughters of Mercy), proposed the idea of building a chapel. The small church was built on land donated by brother and sister, Juan Carlos and Dorita Ibar, and since the idea came from the Basques meeting in the area, it was unanimously decided that the chapel would be dedicated to the Virgin of Arantzatzu.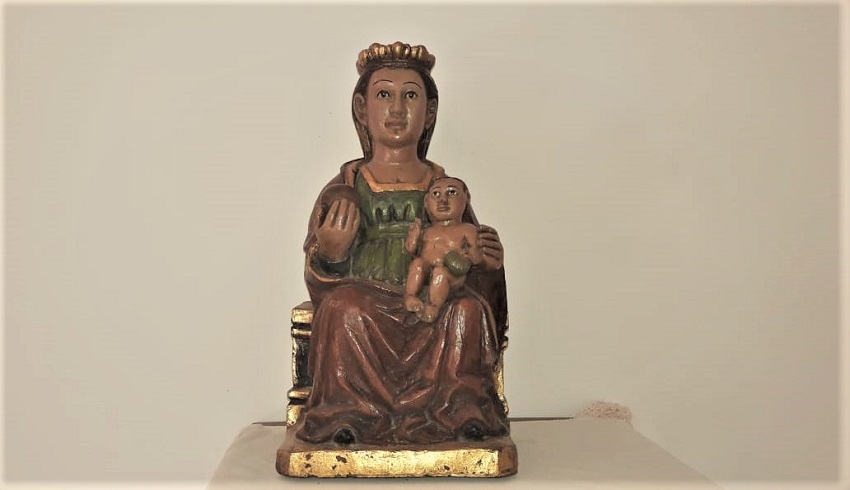 [The image of the Virgin of Arantzazu that protects the parish came to Cuatro
Esquinas from Oñati where Arantzazu is located in Gipuzkoa, in the Basque Country]
Even if the building was completed in July of 1993, it wasn't until 2002, that Father Bengoetxea blessed it. And just as the images of Christ and the exterior cross were the work of the local cabinetmaker Angel Franco, the sculpture of the Virgin of Arantzazu that stands out inside the chapel was sent from the Gipuzkoan town of Oñati, thanks to the management of another Basque descendant in the area, Miguel Elosegui. It is also thanks to Elosegui that an oak tree has been planted on the parish grounds.
Currently, the Chapel of Our Lady of Arantzatzu is under the umbrella of the bishopric, administered by the Sisters of Mercy. Masses there are celebrated by Father Euripedes on the last Sunday of the month. Neighbors and faithful from the area attend. Also to the procession every September 8th on the Feast of the Virgin of Arantzazu.