Concordia, Argentina. On June 21st Centro Vasco Argentino (Argentine Basque Club), in Concordia in the Argentine province of Entre Rios celebrated its 100th birthday. It was 1921, when a handful of Basques residing in Concordia, including Juan Arthagnan and Juan González, two Basque sports enthusiasts, founded what became known as the "Friends of Basques Club," with its first location in what is currently the Bank of the Argentine Nation, on Pellegrini Street.
Later, after much effort, they acquired the facilitates of the old Beñatena Theater (another place in Concordia with a really beautifil Basque name, where the club operates today,) which would soon become an unavoidable benchmark for pelota paleta practice in the argentine interior and the venue for unforgettable tournaments where important athletes from all over the country participated
At the beginning of this year there was an integral intervention and evaluation of the facilities and in February the kantxa was re-inaugurated with the mayor of Concordia, authorities, members and friends all attending an event that included an inaugural match that was full of emotion.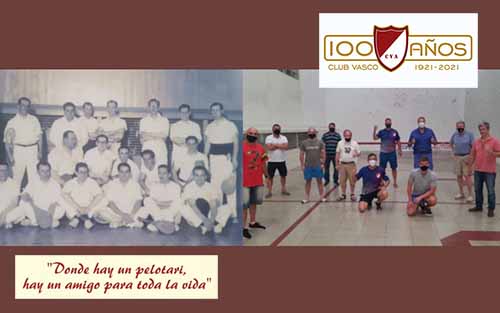 Sports and friendship cement the 100 years of the Argentine Basque Center of Concordia
Besides hosting tournaments, matches and classes in pelota, the Argentine Basque Club has also been the meeting place for friends as proven in its motto: "Where there is a pilotari, there is a friend for life." The club's president, Rudy Elliot Grieve, told EuskalKultura.eus that before the restrictions imposed by the pandemic, it was normal for the Basque community to hold its festivities there. Today, and until the health situation permits, the activities have now be reduced to sports only.
On June 28th, there was an official event with a limited attendance where commemorative plaques were unveiled marking the centennial. This was also a symbolic tribute to the men and women, members and leaders who have made the club great, and an occasion to remember the main milestones of this century-old institution that has retained its youth, thanks to the large number of young people who write its current history, Grieve said.
Zorionak (congratulations) eta mendeurren on (and happy centennial)!