Joseba Etxarri / Donostia-San Sebastián. Anna Mari Aguirre passed away in New York. She was a clear example of a Basque in the Diaspora that wasn't born in Euskal Herria but she always walked through life honoring the Basqueness she inherited at home from her parents, both Americans like her, and her grandparents who settled in New York. A sentiment that was accompanied at all times by a remarkable capacity for work and a remarkable disinterested and enthusiastic adherence to different projects to publicize the contributions and reality of the Basques as one of the communities that made up the United States and New York itself.
Anna Mari Aguirre was born in Brooklyn, the daughter of Andoni and Irene (Renteria) Aguirre. She was, and felt like a Brooklynite from head to toe, and together with this, she lived, breathed and shared her Basqueness in thos same streets of Brooklyn and Manhattan, at home, as her mother Irene, also from Brooklyn, had done before, the daughter of Melchor Renteria, and Maria Bidasolo, emigrants from Bizkaia. The Basque club in New York would become her second home and the Basque community in this big city her extended family. Anna Mari's mother, Irene Renteria, was became Lehendakari Aguirre's personal secretary at the age of 18 when he arrived in the city and was his link to the American world while working for eight years in the Basque Government's Delegation in New York. At the Delegation, Irene met Andoni Aguirre, a Basque like her, on Christmas 1945, he, an American born in the Philippines who recently graduated after the war, where he was also decorated, and who she would marry in 1949 to raise a family in Brooklyn.
Lehendakari Agirre left his mark on the Aguirre's and all you had to do is listen to Irene and Andoni to hear their conviction when speaking about the first Lehendakari to verify that his leadership, his advanced thinking for the time, and his figure and ethical stance marked a path for the family. For three generations, the Aguirres have been one of the perennial and most active members of the Eusko Etxea in New York (EENY) renamed in 1980 and previously called the Centro Vasco Americano providing collaboration and all the support that the could at all times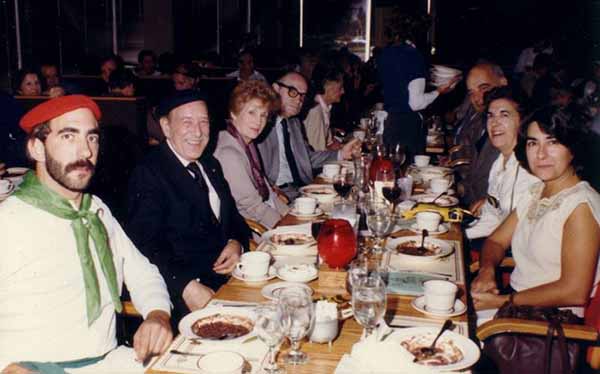 The Aguirre and Cengotitabengoa families at a dinner in 1982. Anna Mari is first on the right (photoEE)
It is not easy to maintain an association in a city as large as New York, and when over time the membership of Euzko Etxea began to disperse and its activity to decline, the Aguirres remained, developing projects and working internally, as well as representing the club externally. Prior to the EENY joining NABO, the Federation of North American Basque entities, in 1993 it had only been comprised of Basque clubs in the west. But then, on behalf of EENY and / or the defunct SBSA - Society of Basques Studies in America (1979-2011) - Andoni, Irene and / or Anna Mari Aguirre, together with José Ramón Cengotitabengoa, attended NABO meetings from New York (and Chicago) along with Emilia (Sarriugarte) Doyaga (Irene's cousin, their mothers were sisters). The mother-daughter pair Irene-Anna Mari in particular did invaluable work from New York alongside Emilia Doyaga on the SBSA; and when Irene passed away in 1999 -- Andoni had passed away in 1997 - Anna Mari became even more an essential pillar of the SBSA, assuming among others, all the office and communication work of the then very active institution.
From the SBSA Cengotitabengoa, Doyaga and the three Aguirres supported important projects, all beginning from scratch, and putting in play all of their vision, capabilities, time and even their money. Along with the annual "Basque Hall of Fame," (that began in Milford, Connecticut in 1981 and the last one taking place in Buenos Aires in 2011), they also organized and sponsored in 1984 performances and exhibits by Basque musicians and artists in the United States including tenor Valentin Aguirre, pianist Josu Gallastegui, artists Basterretxea, Mendiburu and Larrea, and also inaugurated the Basque Sheepherders Monument in Reno, Nevada in 1989. They also carried out the "Ameriketatik" trainera project (1998), and also dedicated all of their effort and support towards an International Basque Cultural Center in New York (2002).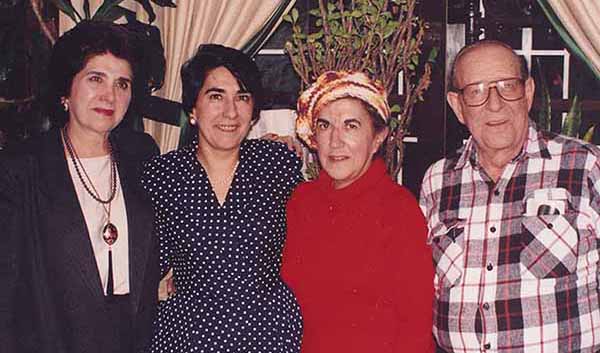 Emilia Doyaga, Anna Mari Aguirre, Irene Aguirre and Andoni Aguirre in a 1992 pìcture (photo JE)

The latter was without a doubt the most ambitious of their projects in terms of their efforts, although they never reached their goal, they never regretted having tried. The creation of the Basque International Cultural Center (BICC) was, of course, an ambitious and strategic project to guarantee a first-rate Basque presence in New York, the capital of the world, headquarters to the UN, and a notable international showcase. The project, of great economic cost, consisted with negotiations having begun with the city, of taking over a building in Manhattan and dedicating it as the Basque reference in the city. It would host entities present today with scattered headquarters in New York, like the Euzko Etxea itself along with the Delegation of the Basque Country in the US. It would also include space for continual Basque cultural programming, space for interested Basque companies wanting to promote themselves in the US, as well as include a first-class Basque restaurant. As a whole, it was about creating a global reference and center for the dissemination of the Basque economic and touristic cultural reality in New York. The SBSA once again mobilized all of tis resources in the American Basque community and campaigned both in the US and the Basque Country. But at the Euzko Etxea itself, there were reluctant voices along with the Basque Government's lukewarm response, and after the attack on the Twin Towers, having changed the city's situation completely, resulted in the project not prospering.
Anna Mari spent her entire life discreetly on the front lines of cultural volunteering. Basque and consciously so, she put her professional skills as a director of the Deutsche Bank in New York, and taught banking courses at New York University (NYU) – always helping the different projects and entities in which she participated. At the Euzko Etxea she was also a Basque student, dantzari and at the end of the 20th century she was still coordinating the Itzelak dance group. She was a very lively, hard-working, generous, committed person who has left a trail of friends everywhere she has been.
New York born Michele Fernandez Etxebarria, who now resides in Euskadi, danced in her youth with Itzelak under Ana Mari's direction and she remembers her as a person "who dedicated the majority of her life to the Basque community of New York." Michele shared this week on social media "Anna Mari, you will be missed and I will dance an aurresku in your honor. You represented the Basques and our culture with much pride and the news weighs down heavily as you were part of my wonderful years at Euzko Etxea. Besarkada bat eta dantza ezazu hodeien artean" (A big hug and enjoy dancing in the clouds.)
Veteran member of the Basque club, Enrique Arana, as well as its vice-president and member of the board of the directors was also moved by Anna Mari's death with whom he worked side by side during many years. He describes her as "an exemplary person for those of us who met and worked with her within Euzko Etxea and the Basque community of New York and the Diaspora." "We will miss her eloquence, her straight forwardness, humor, intelligence, resorcefulness along with her enthusiastic and rational manner of speaking will be greatly missed." "I admired her," he concludes.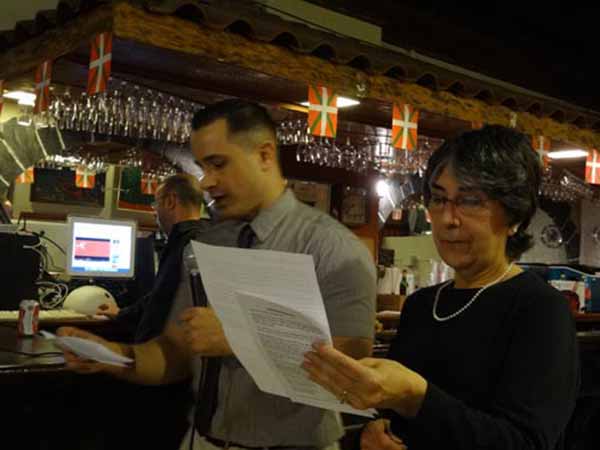 Anna Mari Aguirre, reading the Aberri Eguna manifest in 2012 at the Euzko Etxea, along with Aitzol Azurtza (photo JE)
Anna Mari was part of the third generation of her family in New York that knew and lived firsthand the Basque history of the city, at home as well as in her surroundings during her 69 years. From this privileged vantage point and also being a co-participant and co-protagonist of what happened, she collaborated in a deeply proactive and commendable way in the collection of documentation, search for information and testimonies and nay relevant material for the preparation of different books and works on the Basques in New York. Among these, as part of the Urazandi Collection of the Basque Government, The Basques of New York: A Cosmopolitan Experience by Gloria Totoricaguena "with the collaboration of Emilia Sarriugarte Doyaga and Anna M. Renteria Aguirre," and Newyorktarrak, Origen de la Comunidad Vasca de Nueva York, 1880-1955, (Newyorktarrak, Origin of the New York Basque Community, 1880-1955) "by Anna Mari Aguirre and Koldo San Sebastian." The latter includes the following dedication: "To my parents Irene Renteria and Andoni Aguirre who instilled in me a love for my Basque heritage."
Anna Mari had been ill in recent years. She was diagnosed with cancer and had bad times, and others when she thought she had recovered. She took the opportunity to settle accounts with some trips that she always wanted to take and never stopped making plans and leading an active life, although already retired from the bank. Before the Coronavirus, she had plans to travel to the Basque Country with her nephew Ryan, and she told us by email, that she wanted to show him the country, the culture and the people to whom he dedicated so much time and love. But it would not be. We spoke for the last time in February, on the occasion of the death of her visionary companion in all things Basque, Emilia Doyaga.
I too will feel your absence Anna Mari. Six and a half years ago, when the Euzko Etxea of New York celebrated its centennial (1913-2013), I became emotional seated at the same table as you and William Douglass, having an opportunity to give a talk and share photos as the one above that includes you with Emilia Doyaga, and your parents. I took it some 29 years ago a night when we got together for dinner, I think in Brooklyn. Today all four of you are gone, your parents, Emilia last February and now yourself.
Thank you Anna Mari. True to what you learned from your parents and grandparents, you more than fulfilled your part, always tireless, motivated, cheerful and committed, even beyond what is required. You did not lack who to follow. You have been a memorable representative of the Diaspora in which you were born, of the Euskal Herria that beats strongly in the many and many sons and daughters of Aitor spread throughout the world. Hopefully new generations will take over.
Eskerrik asko eta besarkada handi bat. GB