Bilbao, Bizkaia. Organized by the Fundación Azkue in Bilbao and the Provincial Government of Bizkaia, the contest is open to youth all over Euskal Herria, as well as those in the Diaspora between the ages of 13 and 16 years old, or born between 2003 and 2006. The video should be in Euskera and only be a minute and a half the longest, about a selected theme. The video should include a cardboard box and include "Gustatzen zaidalako egiten dut" (I do it because I like to).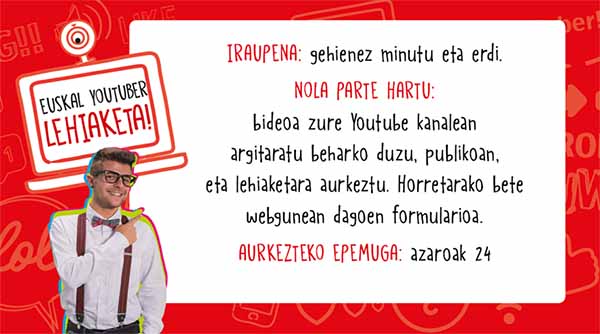 Participants should publish the videos on Youtube, in public and then submit them to the contest by filling out the form bellow. Videos can be submitted from october 28-November 24th. The awards ceremony will take place at an event on November 30th at the Euskararen Etxea in Bilbao.
Prizes will be awarded in each of the categories 12-14, and 15-16 years old. Each winner will receive an Iphone 7 Plus and the grand prize for the Youtuber Bizkaitarra is a GoPro Hero 7 camera. Each participant may submit as many works as he/she wants.
Note for youth and Basque teachers in the Diaspora: the contest is a great opportunity, different and new for youth between the ages of 12-16 in our Euskal etxeak, in particular for youth that study Basque. If this is your case, don't hesitate to participate and encourage others to do so as well. The organizers thank you for your collaboration!
- Contest Rules
- You can sign up, and send your video from here