Buenos Aires, Argentina. Some months ago, we let you know about the visit and rehearsals of Joan Manuel Serrat at the Laurak Bat Basque Club in Buenos Aires before his concert at the famed Colon Theater. Today we do the same with another international artist, from Colombia, Juanes, Juan Esteban Aristizabal, who was born in Antioquia and who has recorded in Basque thanks to Kepa Junkera (a big hug to Kepa with our best wishes). Accompanied by an orchestra, during the rehearsal he was under the gaze from the wall of the bard Iparragirre.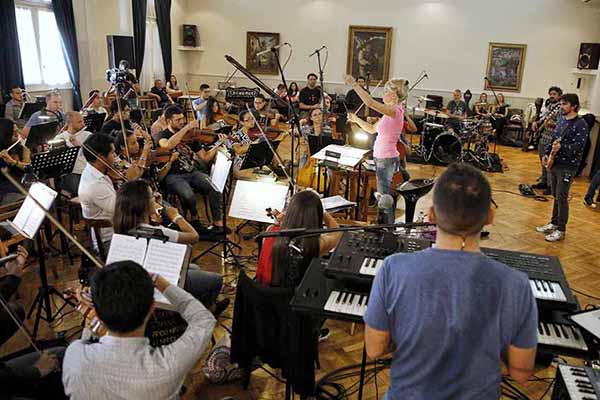 Image of the rehearsal in the main hall at Laurak Bat (photo Hernán Zenteno-La Nación)
This took place last weekend. The daily La Nación also reported it in an interview with Juanes during his visit to Laurak Bat here, article by Cecilia Martínez, with photos by Hernán Zenteno.