Buenos Aires, Argentina. The "new order," imposed by the Coronavirus forces us to rethink customs and ways of life and to modify such basic and precious habits, in general, but for Basques in particular, such as getting tougher and celebrating with friends. At home, the "official," Sanferminak, those that begin on July 6th with a Txupinazo at city hall in Iruña/Pamplona, was cancelled again for a second year But to continue being, it is necessary to love and not give up, to be responsible, but proactive in our case from the Diaspora, to reverse by adapting to the restrictions. Adapt to remain, as always.
In this way, Navarrese around the world, at Navarrese centers as well as other Basque clubs expressed another year of observance through publications on social media. Also with virtual gatherings like that at Urrundik in Parana, or cooking, like the one at Lagun Onak in Pergamino or, one of the exceptions, getting together in person for a picnic like at the San Fermin program at the Zazpiak Bat Basque Club in British Columbia, Canada…or in the case of the four Navarrese clubs in Argentina whose images and greetings appeared in a prior article.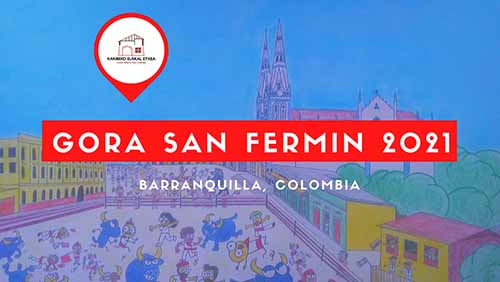 Call to celebrate Sanferminak from Barranquilla, Colombia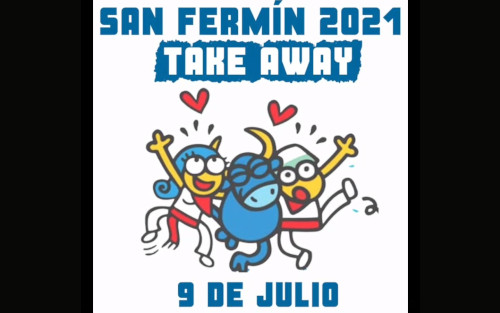 The Centro Navarro in Buenos Aires joined in with different proposals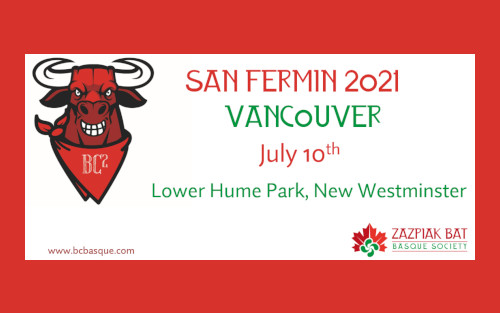 Others did so with a San Fermin picnic, with a Txupinazo, music, Pobre de mi…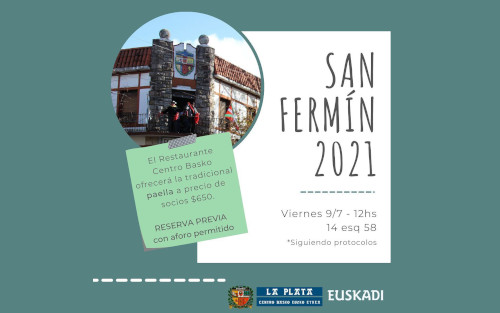 From the Euzko Etxea in La Plata with a complete program of in person festivities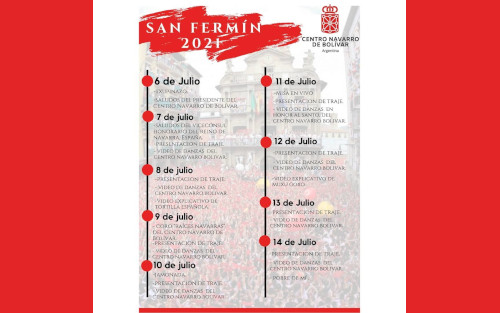 And the 9 days program at the Centro Navarro in Bolivar
Depending on the country and the area, in those cities where conditions have allowed and the San Fermín celebrations have been more animated, there have been some in person celebrations, meetings, Txupinazo, music and delicious food, Pobre de mí/Gaixoa ni…many of the things that are icons of the celebration. But there is no doubt that this has been a year of transition that we hope will end here. Let's be optimistic about the 2022 edition. Because, it is the attitude that suits and characterizes us.

The Euzko Etxea in La Plata held a program at its clubhouse that just months ago, would have been impossible: Txupinazo, balloon launch, paella, dancing in the street…here we see that, even with a mask, they dance in person, in front of the clubhouse.
Today, July 14th, is the day when we say farewell to San Fermin 2021, singing Pobre de mí/Gaixoa ni, However we do so with this image of that beautiful San Fermin banner of "Shang Fermin," from Shanghai, whose Euskal Etxea held an event, as every year in this Chinese city with typical clothes to raise their red handkerchiefs to the shout of "Viva San Fermin, Gora San Fermin" [see the main image that illustrates this article and at the photo gallery below.]