Bordeaux, France. Eskualdunen Biltzarra or the Bordaleko Euskal Etxea, the Basque club in the capital city of in Aquitaine, donated a complete collection of its historic bulletin "Agur," to the Basque Government. The collection starts at issue number 1 dated November 1, 1953, and will now become a part of the Archive of the Basque Diaspora, joining other donations made by Basques and Basque clubs from all over the world that aim to document and preserve the contribution of this important chapter of the Basque history that our Diaspora constitutes.
The Eskualdunen Biltzarra in Bordeaux was established in 1947 and began publishing its bulletin, "Agur," five years later. The newsletter has continued ever since and its latest issues are available online on the club's website.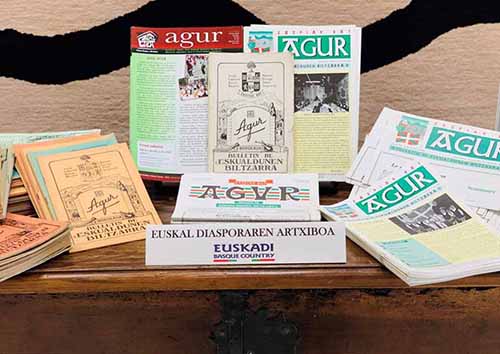 Samples of the various issues and formats of the Agur bulletin through history
The Archive of the Basque Diaspora is grateful for all donations, regardless of what it is, that have something to do with Basque emigration, or the presence, activity or testimony of Basques outside of Basque Country. All materials are welcomed, from letters, photos, books, newspaper clippings, to suitcases, documents, utensils, clothes, etc that aid in documenting the life and history of our immigrants, their descendants, and their activity where they have settled.
If you would like to make a donation, or would like further information, email euskaletxeak@euskadi.eus, or call (+34) 945 018127.