Carora, Venezuela. Beginning with Basque dance, we have come face to face with the History of the Piarists of Navarre in Venezuela. We read a few months ago, in the local press, that a new bishop was arriving to Carora in the state of Lara, and as a tribute to him, students at the Christ the King school had gifted him "a Basque dance performance." This was in Carora, 467 kilometers from Caracas, between Barquisimeto and Maracaibo. Yes, Basque dance in Carora….And so we wrote to our Venezuelan friends to find out more. At EuskalKultura.eus we like to research.
The answer, or a new step in our search, came to us from Caracas from Pedro Javier Arriaga Aguirre, coordinator of the monthly magazine "Jazoera" by the Venezuelan Basque community. He told us what he had found, and posted it too, in a "Jazoera" article. Gathering information, we have learned that from 1950-51 to present there is a unique link between Euskal Herria and Carora, through the Piarists. It was 1950, when a request came to Pamplona from Boconó, in the Venezuelan state of Trujillo, requesting that priests be sent from the Piarist Province of "Vasconia," who are also known as the Order of Poor Clerics Regular of the Mother of God of the Pious Schools or Escolapios.
The call was answered and as a result, Father Jesus Nagore arrived in Venezuela in 1950, to study the suitability of the request. He visited Boconó, but did not consider it a suitable place for a foundation. He returned to Caracas and collaborated in several undertakings, where he coincided with the Bishop of Barquisimeto. The Bishop provided him with moral and material support to begin in Carora. It included taking over a school and creating various chaplaincies. It is now 1951, and that is how the first Piarists, from Navarre, were established in Venezuela, in Carora.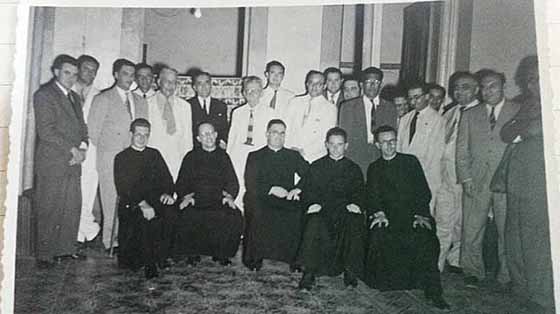 First community of Escolapios in Carora (image blog "From Carora to the World")
To establish it, four more Piarists left the port of Bilbao in August 1951: the veteran Constantino Garisoain, and three young people: Fathers Ignacio Morrás and Jesús Vides, and brother Alfonso Olazabal, who was later ordained. Father Nagore welcomed them at La Guaira and in Carora they were welcomed enthusiastically. In just a few weeks, the first Piarist School in Venezuela would start up with 109 students (today it has more than 800). More Piarists will arrive, including Father Jesus Zuazua on October 1, 1956, who was then 31 years old.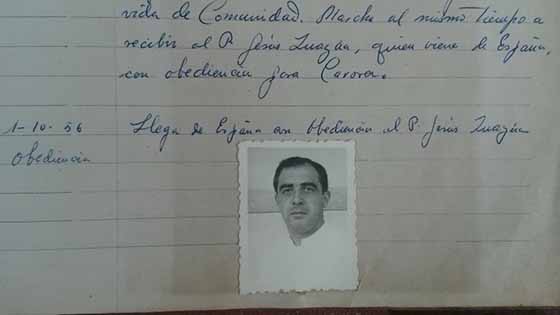 Father Zuazua when he arrived in Carora at the age of 31 (photo https://centroamericaribeschp.com)
Jesus Zuazua Garcia was born on August 16, 1925 in Estella-Lizarra, Navarre. He was ordained in 1948, and celebrated his first mass in his hometown, at the Sanctuary of the Virgin of Puy. After spending time in Pamplona and Bilbao, they sent him to Carora in 1956, where he spent his life, except for three brief periods in Caracas (1959-1960), in Estella (1968-69) and in Pamplona (1998-1999). In Carora he sowed very special seeds, those of Basque dance, that he taught for 40 years to the school's students, until these dances became part of the ceremonies, and part of the center's identity.

Video created for the 60th anniversary of the arrival of the Piarists to Carora. Father Zuazua
s mentioned at 2' 14"; and at 3' 54" Basque dance, "36 Years of Pride and Tradition"
Another Piarist from Navarre, Father Jose Fidel Unanue Pagola from Eraul-Deierri writes about Jesus Zuazua. He notes in his words that "Father Zuazua is a legend in Carora, with projection in the Lara State and with sympathies in Venezuela," because of the charity of his teaching profession, for the delicacy and detail in each of his classes, for the effort to incarnate in his own person, the figure of Jesus the Master; but in a special way, for the so-called "Basque Dances." A whole culture of commitment to history, to geography, to the values of the peoples where the children live."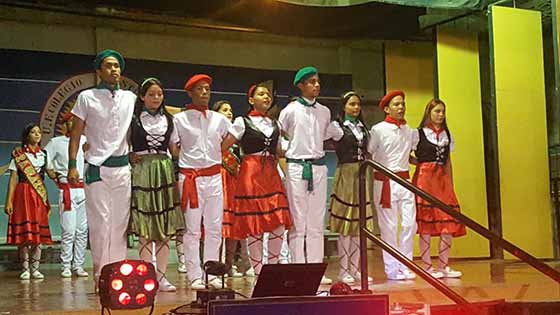 Basque Dantzaris in Carora: Basque dances that are rooted and continue their life in
Carora, converted into heritage and local tradition (photo blog "From Carora to the World")
"An orderly and faithful person, affectionate and sensitive, he was very fond of his roots, at the same time that he felt well focused on his new homeland. His greatest joys were motivated by his family of which he was very proud, with love and in union with all his home, his Basque People or Euskal Herria, with which he identified by his roots, by his geography, by his beauty; and Carora, his adopted town," Unanue concludes.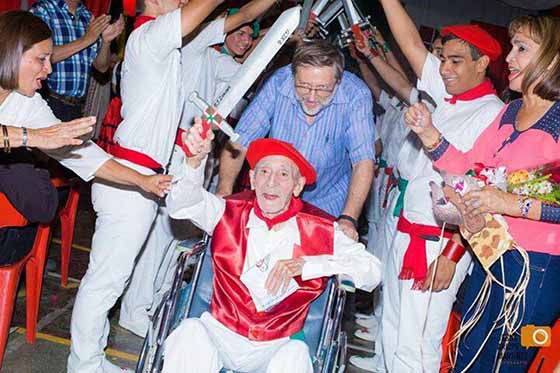 Father Zuazua received a heartfelt and popular tribute in 2016, at the age of almost 91. At
the 40th Anniversary of the beginning of the Basque Dances in 1976, after Spanish dictator
Franco died (image blog "From Carora to the World")
Aita Jesus Zuazua died on September 1, 2016, at the age of 91. They said farewell with the main Ikurriña that flew in the dances on top of his casket. He was very beloved man by the community, and among other things, the architect of the establishment of something that today is the feeling and pride of several generations of those living in Carora, his Basque Dances. Shortly before his death, they entertained him with a tribute in which Ikurriñas and all the Basque paraphernalia that accompany each end-of-year celebration were not lacking.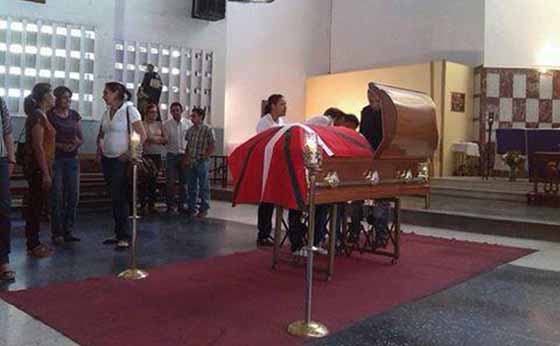 He arrived in Carora in 1956, and died there 60 years later, just after celebrating his 91st birthday (image blog "From Carora to the World")
Goian Bego (GB) they say in Basque, or Gugan, or Gogoan Bego (May he rest in peace, or remain in us, or in our memory), and it seems that yes, that this is the case for Aita Zuazua. His harvest of Basque Dances continues and survives in many people, and in new generations that add to his legacy every year. As Monsignor Enrique Curiel Herrera, doctor, surgeon and also a Piarist for more reasons witnessed this being entertained by local Basque dancers on his arrival to Carora as the new Bishop.

But this video is not the least significant because it is the last: rather the opposite. This is
testimony of the legacy left by Jesus Zuazua and the Navarrese Piarists in Carora. "Pride
and Tradition," they say. The video corresponds to the last promotion before the pandemic.
It is an impressive testimony. To highlight the choreography, music from all over the
Basque Country, bands in tribute to the founding fathers…(video Jesús Arispe Martínez)
Gugan Gogoan, may this story remain in our memory, a story that began in Estella-Lizarra and has not ended, despite the absence of tis promoters, that continues to be very much alive and evolving in Carora, State of Lara, Venezuela...