Donostia-San Sebastián. Today, January 21, is 'the day after,' and a holiday in Donostia. Yesterday the sounds of drumming was heard during this party that "only" last 24 hours, however intensely, that is also celebrated in a good number of Basque clubs and by Basques, Donostiarras, and not, in the Diaspora. In fact, part of the Diaspora celebrated last weekend, but there are still places, for various reasons, will celebrate San Sebastian and the Tamborrada later, mainly in the coming week.
Among those who celebrated the Tamborrada last weekend were the Euskal Etxea in Mexico City with a festivity in sync with that in Donostia, with a real Tamborrada with its corresponding drum major, rehearsals, drums, barrels…just like in Donostia. They were also joined by their friends at the Euskal Etxea in Madrid who held a dinner and drumming at the Zerain Restaurant, or the traditional Tamborrada at Jai-Alai. The Euskal Etxea in Paris alson joined in with the Anaiki Choir and a fanfare included, under the coordination of Jean-Marie Guezala, linked to Lezo-Donostia; or the drummers, and barrels at the Euskal Etxea in Shanghai.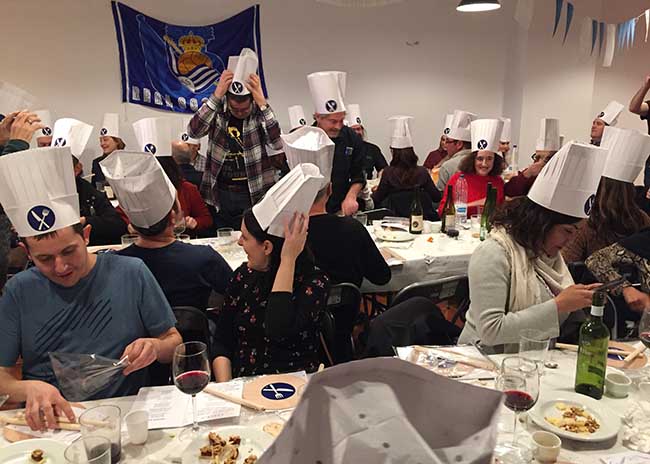 Image of the Tamborrada at the Laurak Bat Basque Club in Valencia, Spain (photoEE)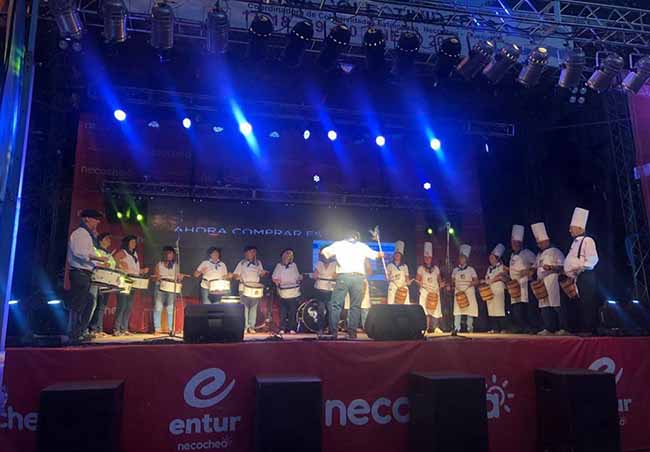 The Euzko Etxea in Necochea presented the Tamborrada at the local Festival of Collectivities (photoEE)...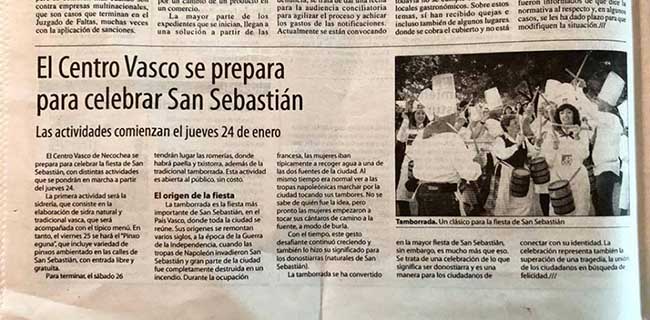 …even though they will continue the San Sebastian festivities and Tamborrada all week long (photoEE)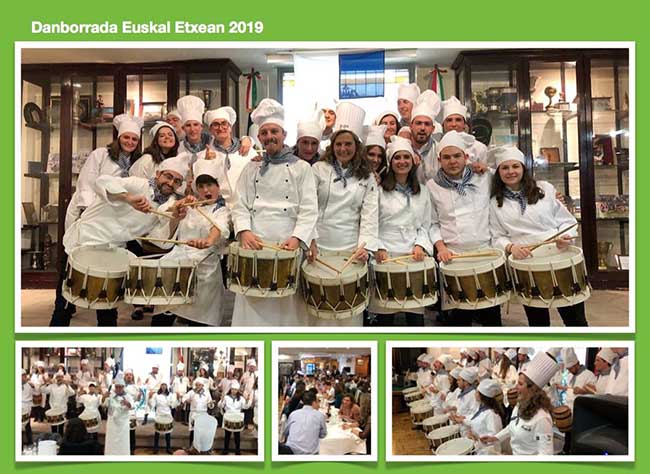 Image of the Tamborrada at the Mexico City Euskal Etxea (photoEE)
We can't forget the Tamborrada at the Euzko Etxea in Necochea, Argentina that will celebrate next week. Or the celebrations at Gure Txoko in Valladolid or Barcelona, or those at Laurak Bat in Valencia, and others in Caracas or moving north in the American continent at the Cooks and Soldiers Restaurant in the city of Atlanta, Georgia.
Among those celebrating next week are also the Eusko Etxea in New York that will celebrate at its clubhouse on Saturday the 26th beginning at 19:30 (if you would like to join them contact Itziar Albisu: mitzalg@gmail.com). Or the children's Tamborrada at the Euskal Etxea in Madrid; the adult Tamborrada took place on the 19th, but the children will have their turn on the 27th at 13:15 outside the Zarzuela Theater in front of the clubhouse. Go see them! You'll enjoy it!
[In this short summary, we haven't included Tamborradas that take place later in the year, like that in Cañuelas, that coincides with their Aberri Eguna celebration, or the Laurak Bat one or others in Buenos Aires province like, for example, the Bahia Blanca one that will surely also include next Ovtober-November drummers from all over the country dressed as cooks at the order of the drum major Rosana Entizen at Semana Nacional Vasca.]
(if your club or group of friends in the Diaspora have celebrated the Tamborrada or are planning to, please let us know: info@euskalkultura.com)