Berlin, Germany. Beginning last Tuesday through next Monday, December 3rd, the feast of Saint Francis Xavier, and International Day of Euskera (ENE) people in Berlin have enjoyed a week of cultural activities as part of Euskaraldia and Euskera Day organized by the Etxepare Basque Institute, the Berlin Euskal Etxea, the University and other local associations.
Activities began last Tuesday at the Freie Universität (FU) in Berlin with three consecutive days of courses and debates organized by the Basque Language and Culture lecturer at the FU.
Today, November 30th, there will be a meeting between the Basque language and culture and that of the Kurd language and culture with a presentation on the situation of both languages and a crash course that will include music, food and dance and will conclude with a joint party. It begins at 6pm at the Pallasstraße 35, in 10781 Berlin.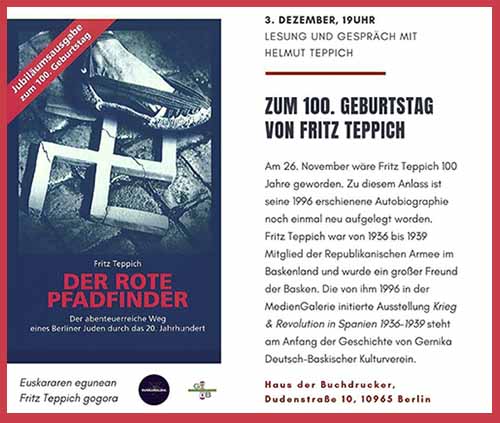 Finally, next Monday, December 3rd there will be a reading of texts by combatant on Basque soil, Fritz Teppichen, whose book's second edition was recently published. Frits would have turned 100 this week, on November 26th. The reading will take place with the collaboration of his son at 7pm at the Mediengalerie-n, Dudenstr 10,10965 Berlin..