02/25/2023 - Kerman, California, USA
Los Banos Basque Club long time member, Therese Cedarry of Kerman, passed away on Saturday February 25 at the age of 93. She was born on November 1, 1929 in lrrisarry, France.
She was at all of our functions with a smile on her face. She loved visiting with everyone and had her special group of Basque ladies that we all look up to.
Visitation will be held at 855 E. Floradora Ave at St Therese church in Fresno on Tuesday, March 14th from 3 to 6 p.m. followed by recitation of the Rosary at 6 p.m. The funeral will be private.
Her husband Jean, irisartarra hau ere, preceded her in death in 2007. She is survived by her daughters, Mary Jane Carlson and her husband Larry and Monique Nonini and her husband Rusty. She is also survived by her beloved grandchildren, Michelle and Michael (Janae) Carlson, Nichole (Justin) Macomb, Renee (Kyle) Murray and Anthony Nonini and his fiance Amanda, great-grandchildren Hallie Carlson, Mckenzie Burdine, Rhett Carlson, Maddox Macomb and soon to be born baby girl Murray. She is also survived by her sister Simone Coumat from France.
The family would like to thank her caregivers Erika and Janie for the excellent care they provided for her during her time in need.
(obituary published in DignityMemorial.com)
Goian Bego (GB) - Rest in Peace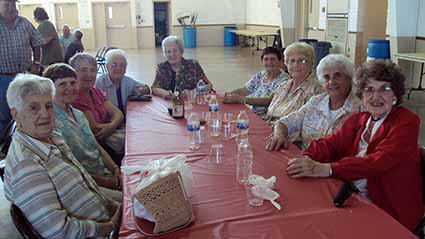 Los Banos EEko emazte xaharren taldea, zenbait joanak dagoeneko