2023/06/16 - Sonoma, Kalifornia, AEB
Gratien Guerra left this world on Friday, June 16, 2023, in the company of his loving wife Lili Guerra, his daughter Francoise Hodges, caregiver Antonette Usher, and his neighbors the Puls'. Gratien came to Sonoma in 1956.
He arrived in Los Angeles in 1950 as a young baker from Baigorri, France, in the French Basque region. He met his future wife, Lili, in a French restaurant in Los Angeles in 1952. She also had emigrated from her hometown in the southwest of France, Oloron Ste Marie.
They both survived the harshness of WWII as youngsters in occupied France and were looking for opportunities in the United States. They bravely arrived, independently, without the gift of speaking English, but with a strong work ethic. Gratien and Lili found a bakery for sale in Santa Rosa in 1954.
It was called the Western French Bakery, in Old Railroad Square. They moved there from Los Angeles and operated it with another French couple, until 1956, when they found a bakery for sale in Sonoma they would come to purchase and operate on their own. The bakery was located on E. Napa St., just off the Plaza.
After a short while, August Sebastiani offered them a location on 1st St. East in his building which housed the town's theatre, and they remained there as tenants on a handshake lease for the next 33 years. They renamed their bakery the Sonoma French Bakery. During that time Gratien amassed a reputation for the best sourdough French bread.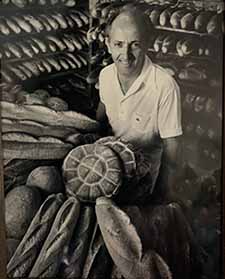 They won countless Harvest Fair gold medals, won the San Francisco Chronicle's Sourdough competition, and were featured several times in the news. Julia Child was a frequent visitor to their bakery. Besides loving his customers, Gratien loved being creative in his work. He loved his family, playing handball, his vegetable garden, his adopted town, and his animals.
He loved being outside tearing up the field and raising dust on his tractor. He had a great sense of humor and an even bigger heart. His family and friends miss him dearly.
He is survived by his wife Lili of 70 + years, his daughter Francoise, his sister Mayi Etcheverry of San Francisco, nephew Marcel (Beatrice) Etcheverry of Mill Valley, sister-in-law, and brother-in-law Michele & Maurice Panassie, and nephew Andre, Panassie of Glen Ellen, and three sisters in France.
Our family wishes to gratefully thank Gratien's physician and friend Dr. Brian Sebastian, and his cardiologist Dr. Thomas Dunlap, for their sincere and compassionate care. Additionally, we wish to include his caregivers Kathleen Usher, Lilia Cruz, and Carmen Velasquez, whose help and love we are forever thankful for, as well as the friends who made time to visit Gratien and Lili.
Gratien requested no service be held. If you would like, he would appreciate contributions to Sonoma Valley Fire & Rescue Agua Caliente #3, Sonoma Valley Hospital Foundation, or Pets Lifeline.
(published by Press Democrat, Legacy.com from Jul. 14 to Jul. 21, 2023)
Gugan Bego (GB) - May he Rest in Peace